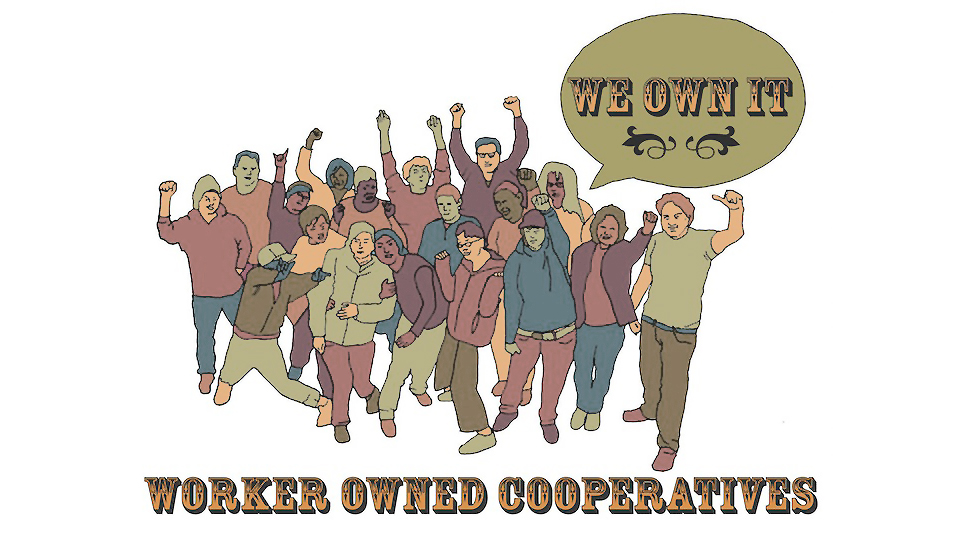 Friday 3 July 2015 7:00 pm
We are going to watch new documentary films about worker co-operatives at Ceramics co-op studio at New Cross. Join us to have a discussion, hang out and meet co-operative folks afterwards.
Can We Do It Ourselves (60 min)- new 2015 documentary from the Swedish media cooperative Fria Tidningar.
Own The Change (20 min) – new documentary by GRITtv & TESA, the Toolbox for Education and Social Action.
This is the first one in series of film screenings about co-operative organising. We start from worker co-operatives. Housing, food and maybe other co-ops to follow.
Thanks to Sanford Housing Co-op members for lending their projector to us, and Guillermo Justel for facilitating this co-operation.
Address:
Ceramics Studio Co-op
17, Block C, Juno Way, SE14 5RW, New Cross, London
How to find us – travelling directions
>The image above is from Worker Owned Coops Poster by Josh MacPhee. Based on image of worker-owners at Rainbow Grocery in San Francisco.